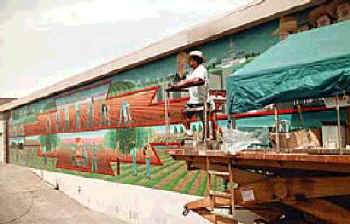 During September, 2001, the Latino community of Toppenish, Washington in the Yakima Valley celebrated the first local mural to recognize the contribution of bracero workers, Mexicano and Tejano settlers to the culture and economy of the region. Latinos made up about 75% of the town's population on the 2000 Census. "El Sarape" is the 60th Toppenish mural.
Daniel DeSiga, Washington artist and member of California's former "Royal Chicano Airforce" art group, completed the mural "Serape" in five months. Like the "Adelante" mural of Sterling, Illinois, SARAPE follows the history and struggles of Mexicano workers, their efforts to improve working conditions and to build a community.
View 20 of Daniel DeSiga's works and learn more about the artist from Evergreen State College's archives: http://www.evergreen.edu/library/chicanolatino/artists/daniel_desiga/bio.php
Photos above show progress on the mural during June 2001. With a number of historic scenes and 103 faces, "Serape" measures 15 X 100." Designed in the form of a traditional Saltillo blanket, each side of the mural is decorated with fringe and red "woven" borders. At left, bracero farm laborers pause for lunch; behind them, rows of tents that housed Mexicano and earlier Yakama Indian workers fade into a background of plains and mountains.
DeSiga states that he could not show all the crops in one mural, but "El Sarape" depicts "the Sugar plant, ...thinning beets ( the long hoe and the controversial short hoe), cutting asparagus, hops, picking tomatoes, irrigating crops in general, picking potatoes.... The green rows of plants are beets. The crops were started in the early spring like cutting asparagus, and lasted during the summer."
SEE Daniel DeSiga's painting "Campesino" 1976 (Oil on canvas; 50 1/2 x 58 1/2 inches) as a bookcover.