LOS TRES ANGELES
LOOK FOR THE NEW KIDS' STORE !!
OWNERS: Annette & Tomás Briseño
ADDRESS: 2900 E Lincoln Way
PHONE: 815-626-0629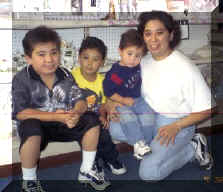 Patrick, Jaime and Juan (Los Tres Angeles) with Annette Briseño, Manager & Owner. Visit the shop or call Annette for help with quince años party, and about the conversion to a Kid's Store in 2006 !!

PRODUCTS and SERVICES:
Accessories and Gifts for the Bride and the Bridal Party

Everything the Quinceñera and her Guests could need ... Modeled by Monica Marquez, who will celebrate her QUINCEAÑERA PARTY in September 2002.

To bless the baby's Baptism or Christening.

WHAT DOES THE QUINCEANERA CELEBRATION MEAN ??

GO BACK TO: Businesses Page

OTHER BUSINESSES: RESTAURANTS Tres Angeles Store GROCERY STORES